Server Guidelines
Become one of us! Learn our community culture with our Community Guidelines.

Respect your fellow players. Write constructively, and in good-spirit of our community, & behave civilly.

Upgrade your knowledge of fair and fun roleplay with the Roleplay Quality Standards.

Roleplay is a double-edged sword: you are expected to provide interactive roleplay in both situations that are unfavorable to others as well as in situations that are unfavorable for you or your character for the good of the game.

Push your limits; know what you can do! Familiarize yourself with our Gameplay Systems.

Use common sense. You are responsible for helping build a serious roleplay environment. If you doubt you are doing the right thing, ask a moderator.

Exploiting, manipulating, or 'loopholing' the rules is strictly punishable.

The staff is here to help. We volunteer ourselves to this community out of love and a desire to see it succeed. If you have issues with any of us please contact that member's respective Management or Administrator.
Mod Shopping
Do not modshop. A staff member's verdict is final and must be followed. If you wish to contest it, contact the corresponding team management or admin.
Moderation Discretion Clause
All the rules listed for the server are there to facilitate a fun, fair, and conducive role-player environment as well foster a community of respect and cooperation. Players who attempt to get off on technicalities/loopholes or skirt the line between breaking the rules can still incur an infraction should either of the aforementioned goals be threatened. This right can be exercised at the discretion of Moderation should it be deemed necessary.
Infraction System
The image below demonstrates how the Moderation Team enforces the rules. At any time, you may request that a Moderator provide you with your infraction history. Minor and Moderate infractions in each category will expire after a year, and will be automatically removed from your history.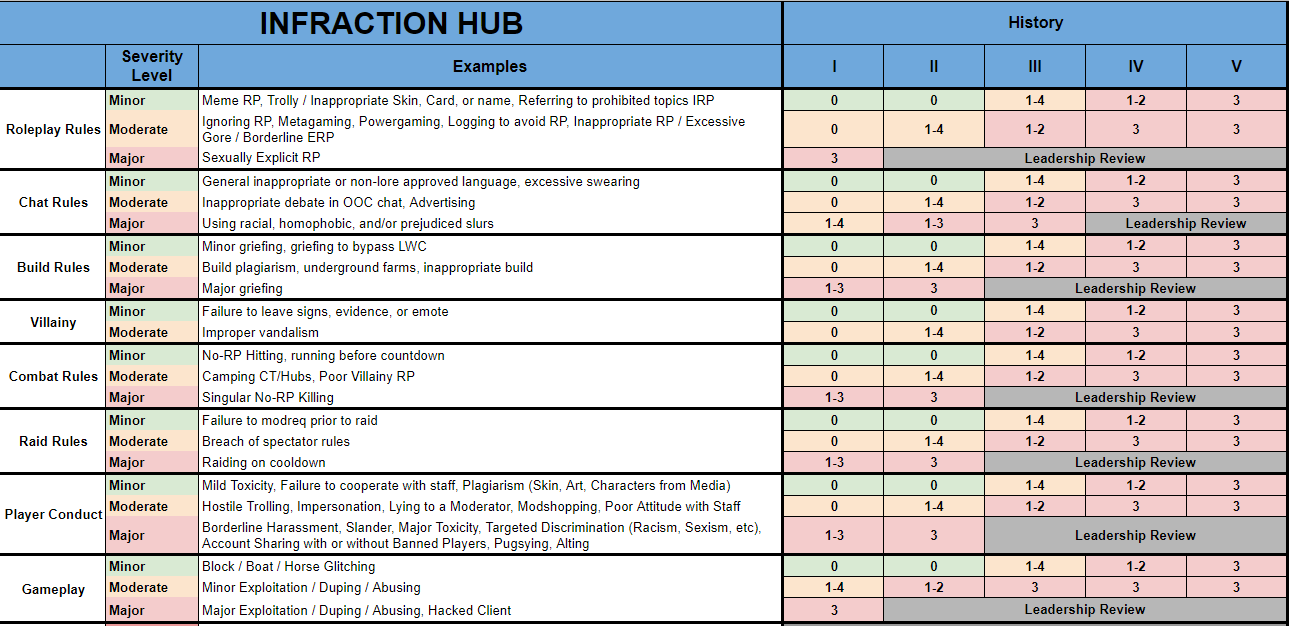 ---